Increase Your Margin with Hurco 5-Axis: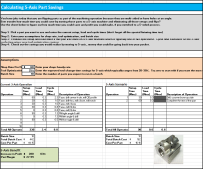 Increase EfficiencyWith a 5-Axis Machine
Request The Free Hurco 5-Axis ROI Worksheet
Margins are tight in the metalworking business, so how do you get ahead? See how you can make more money with 5-axis by using our 5-Axis ROI worksheet.
Find out how to:
Use your shop's numbers to see the increase in margins with 5-axis
Apply 5-axis to the work you already have
Increase your margin by 50% or more on existing parts (real part examples)
Don't get left behind. See how 5-axis can benefit your shop by downloading the ROI worksheet now.