Chipmaker Challenge - IMTS 2014
Hurco proudly announced in August, the seven finalists for the first ever Chipmaker Challenge Championship that was held at the Hurco IMTS booth. Modeled loosely after the television show Shark Tank, Hurco decided to sponsor the Chipmaker Challenge to garner attention for manufacturing entrepreneurs. The winner chose a brand new HurcoVMX42i CNC mill in addition to a tooling package from Sandvik Coromant.
The seven finalists (below) pitched their business plan to our panel of judges at IMTS, and answered their questions. The four judges voted for the winner and the fifth judge was decided by the online community via social media and internet media.

To watch the competition, click on the video window above.
To find out who won, click here.
Meet the seven finalists.
---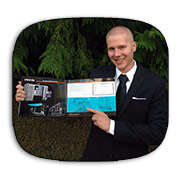 DKS Machining, Dakota Sodergen - Washington - Read Full Essay
Dakota Sodergren's dream started back in the 2nd grade when he had his first product idea: a neoprene CD player cover that would protect the CD player from breaking if (or when) it was dropped, like Dakota had just done. He made a crude prototype, but then the reality of taking something from prototype to production hit. But this experience led him to pursue a career in manufacturing. He first started machining in his free time at home when he purchased a used 1955 manual mill. Once he learned how to use it, he realized he had found his passion. He then earned an Associates degree in Manufacturing Technology (machining), after graduating he worked full-time at the technical college as an assistant instructor before taking a position as Machinist/CNC Programmer at a local machine shop.

Dakota officially started DKS Machining a little over a year ago while he continues to work at his full-time job. Dakota also serves as a Machinist Apprenticeship Instructor one night a week when classes are going for A.J.A.C. (Aerospace Joint Apprenticeship Committee), a local apprenticeship program.

DKS Machining produces a wide variety of parts, from basic bushings, screws and shafts, to helical gears and spur gears, pump components, drill jigs, trim fixtures and mold components. The company's current in house capabilities are manual milling, turning, surface grinding, OD grinding, welding, assembly, CAD design, CNC contract programming and climate controlled inspection. Dakota plans to expand and diversify his customer base into aerospace, energy and production tooling but has had to turn down large amounts of jobs because his current fleet of equipment consists of manual machines and the majority of the work requires sophisticated CNC equipment to be competitive.
---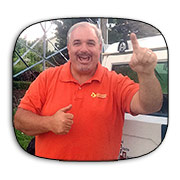 Excavating Solutions, Philip Paull - Indiana - Read Full Essay
Excavating Solutions was born out of necessity due to the financial crash that hit the housing market. As a lifelong excavator, Philip Paull's lot was full of heavy equipment sitting idle and there was very little work on the books. He knew he had to start over. With over 20 years of excavating experience, he created the IDigBest system for excavators. IDigBest is a machine control for excavators that was designed and built by an excavator for excavators. Philip says the system is visually appealing and loaded with one-touch convenient functions to tackle any project.

He explains that the biggest corporations in the world have been working on this technology for decades with little success. After several years R & D and hundreds of upgrades and advances, the IDigBest system is getting noticed as the first fully functional control for excavating that provides the operator with the confidence and ability needed to pull grade perfectly despite the conditions.

With the company's US Patents, and connections to leaders in the industry, Philip believes the sky is the limit as he envisions the future of Excavating Solutions.
---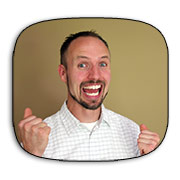 On-Time Machining, Ben Noordhoek - Michigan - Read Full Essay
Ben Noordhoek hasn't officially started his company yet, but he and a colleague have spent the last six years getting ready-paying down personal debt, being "rock stars" at their current company, and writing a business plan.

Ben has an associate's degree in applied arts and sciences for both tooling and manufacturing technology and mechanical design in addition to a journeyman's card as a tool maker. He has worked for his current employer for 15 years as the foreman to the CNC department where he built a database to increase efficiency. It worked so well, he expanded the database into sales and project management. With all of the data at his fingertips, he was able to forecast with extreme accuracy.

Ben plans to leverage that type of technology to be incessantly on time when he launches On Time Machining. He chose the name of the company because he noticed a common problem shops have—being on time. "Manufacturing people have a lot of things in common…it seems that the majority of people in this industry are incapable of hitting a due date. (They just grab whatever they find until someone starts screaming for something else.)." On-Time Machining will make custom machines, fixtures and parts for several industries including automotive, furniture, medical\dental, food and household appliance, and they will be delivered on time.
---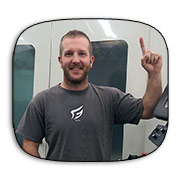 Middle Coast Custom, Jordan Hill - Wisconsin - Read Full Essay
With over 10 years of experience, Jordan Hill feels like the time is right to pursue his dream of starting his own company, Middle Coast Custom. As far back as he can remember, Jordan says he was intrigued with how things worked, which led him to take things apart as a young child. According to Jordan, his father recognized his interest and promptly supplied him wih Legos and erector sets to teach him the other side of mechanical things: the act of putting things back together. Since then, every job and hobby has been related to creating, repairing, manufacturing, and modifying various items.

Jordan graduated from Waukesha County Technical College (WCTC) where he majored in tool and die manufacturing, has accumulated 10+ years of experience running at least 10 different brands of machine tools, and is a card carrying journeyman tool and die maker.

He says Middle Coast Custom will focus on prototyping and short run production of tight tolerance components and providing repair and fabrication services to local farmers and other local industries. Jordan also plans to market his business to motorsports enthusiasts by specializing in custom one off components and retrofitting classic cars with new technologies. According to Jordan, Middle Coast Custom will provide a niche service of toolmaker quality and efficiency, with excellent customer service and impeccable attention to detail.
---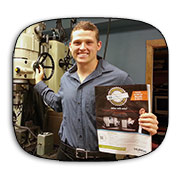 Moore Engineering, Wade Moore - Connecticut - Read Full Essay
Wade Moore comes from manufacturing lineage as his great grandfather founded the company Moore Special Tool, in Bridgeport CT, in 1924, and took manufacturing to the next level when he invented the Moore Jig Borer. The company was world renowned for its incredible manufacturing of their Moore Jig Grinders and many accessories that they built all in house. When Wade was two years old, the family had to sell the company due to financial challenges. While it was a big hit to Wade's father and grandfather, watching his dad start over and support the family out of a small machine shop, making parts with precision down to forty millionths of an inch on the #3 Moore Jig Grinder that he purchased by mortgaging the house, had a big influence on Wade.

After graduating from the University of Connecticut (UConn) with a Mechanical Engineering degree, Wade continued in his father's and grandfather's footsteps by starting his own company: Moore Engineering, in Milford, CT. He has been in business just under a year, and currently employs his three younger brothers part time. At UConn Wade won third place for a year-long senior design project for Sikorsky aircraft In Stratford, CT. The project consisted of nondestructive inspection methods for using adhesives to repair damaged helicopter skins, over conventionally used rivets.

In addition to running a precision machining shop with the guiding principles of his forefathers, Wade is also using his expertise to develop his own concepts and inventions. He received a patent for a skateboard splashguard and is in the midst of developing tree trimming/cutting robots and a process for manufacturing specialty soaps.
---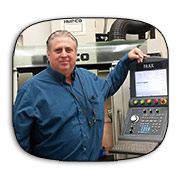 Zel-Tech Training Solutions, Richard O'Neal - Florida - Read Full Essay
Zel-Tech Training Solutions produces training equipment and simulation devices for the military. Formed from a core group of individuals who left Lockheed Martin started Zel-Tech in 2011, the company's strategy is to respond to customer needs in a quick and streamlined fashion—to take a project from inception, through design and testing in the most efficient manner. Currently, the Florida facility employs 23 people. Zel-Tech's primary focus includes two specialized areas; MILES (otherwise known as Laser Tag), and Range-Training/Live-Fire (pop-up targets, pyrotechnic simulation, and related devices). They currently have a three-year contract to build pyrotechnic devices for the Army.

Component parts that comprise MILES training devices are produced by a variety of processes, such as die casting, injection molding, sheet metal stamping, sewing, and machining. MILES products tend to be small, about the same size as a smart phone. Range-Training equipment is larger. Component part production for Range-Training equipment include those same processes used to produce MILES parts, as well as, the additional processes of compression molding thermosets, Reaction Injection Molding, and weldments.
---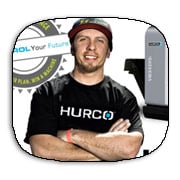 Wolfpack Motorsports, Jason Merrell - California - Read Full Essay
Jason Merrell's love off off-road racing led him to starting Wolfpack Motorsports. As a driver himself, Jason saw a need to make stronger, more durable parts that could take the abuse of racing and recreational off-roading. Currently Wolfpack Motorsports produces after-market parts for the UTV Industry including, aluminum & chromoly radius rods, front control arms, small machined spacers, aluminum down links, and several other parts for off-road use.

Jason and his brother also own a marketing/media company that has serviced some of the largest brands in action-sports and off-road racing. They create professional content including photos, videos, press releases, social and other digital media for these brands and Wolfpack Motorsports.

The racing and race team, brings credibility to the parts they sell. The marketing company shows the world how these parts are tested and race proven in the toughest of conditions.

The companies that support their race team, Polaris industries, Rockstar Energy drink, Makita power tools ,Walker Evans Shocks, GoPro, Lucas Oils, Miller Welders, GMZ Wheels, Loctite, Mechanix Gloves, Magnum Off-road to name a few. In turn, the media arm of Wolfpack produces professional content for these great sponsors, which gets shared virally. "Our parts line is attached to everything we do in the race team," explained Merrell.

After being in business about a year, Jason sees the need to bring manufacturing in house to control lead times and quality of the numerous parts his company provides the off-road vehicle industry. In addition to producing a parts line for off-road vehicles and racing, Wolfpack supports a non-profit called Warfighter Made that helps disabled veterans with recreational therapy and outfitting vehicles to compensate for their disabilities.