High Speed Machining ROI Worksheet | Find Out How Much You Could Profit
Margins are tight in the metalworking business, so how do you get ahead? See how you can make more money with high speed machining by using our High Speed ROI worksheet.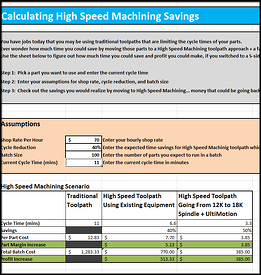 Learn:


Use your shop's numbers to see the increase in margins with high speed machining


Learn how much time you can save with high speed toolpaths


See real part example showing 80% cycle reduction


Don't get left behind. See how high speed machining can benefit your shop by downloading the ROI worksheet now!